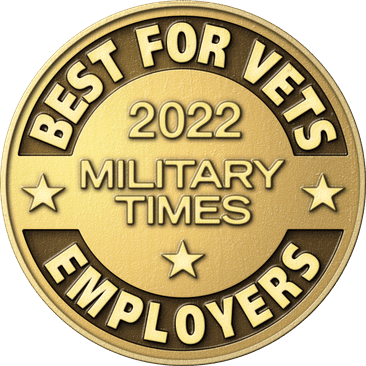 VIENNA, VA, November 4, 2021 — Military Times announced its 2021 Best for Vets: Employers rankings today. This year, Precise Systems ranked in the top 100, including the 3rd Best for Vets employer in Maryland.

This year, almost 200 organizations submitted responses to the Best for Vets: Employers survey that fielded from July to September, and 161 employers made the list. This editorially independent program produces a highly respected analysis of a company's efforts to recruit, retain, and support current and former service members, military spouses, and military caregivers.

"Military Times continues to set the standard for employer rankings for transitioning service members and veterans. Although often imitated, there is no other list that comes close to Best for Vets: Employers," says Mort Greenberg, SVP of media solutions at Military Times. "We stand by the rigor and soundness of this survey, which spotlights companies' employment programs that help transitioning service members excel in their post-military careers."

This year, Military Times collaborated with Fors Marsh Group (FMG) to update the research methodology and analysis from previous years to provide a streamlined, user-friendly survey experience for participants. All survey changes were made based on subject matter expert reviews of the survey and rigorous qualitative research, including focus groups and in-depth interviews with Military Times subscribers. FMG designed, deployed, analyzed, and wrote the report for this year's survey.

The updated survey captured the areas of greatest importance to transitioning service members, veterans, and their families when looking for an employer. Recruitment and employment practices, as well as retention and support programs, were given the most weight and importance in scoring and final rankings.

"As a company that's proud to hire military veterans and their family members, we see this survey and our partnership with Military Times as an opportunity to further the credibility and recognition of the companies committed to being Best for Vets Employers, as well as a resource for companies seeking to improve or extend their current veteran hiring practices," said Andy Blenkle, FMG's vice president of marketing and public service recruitment.

In its 12th year, Military Times Best for Vets: Employers rankings are based on the results of a voluntary survey that covered the policies and practices that make companies an attractive place to work for current employees and future job seekers within the military community.

Learn more about Precise Systems' ranking here.

***

About Military Times
The Military Times digital platforms and newsweeklies are the trusted source for independent news and information for service members and their families. The military community relies on Air Force Times, Army Times, Marine Corps Times, and Navy Times for reporting on everything important to their lives, including: pay, benefits, finance, education, health care, recreational resources, retirement, promotions, product reviews, and entertainment. Military Times is published by Sightline Media Group. To learn more, visit www.militarytimes.com.

About Precise Systems
Precise Systems is a professional services company currently working for the U.S. Navy, U.S. Marine Corps, and U.S. Air Force. Our core competencies include systems engineering, program and project management, logistics, information technology and cybersecurity, and software development services. We were founded in 1990 and have provided cutting-edge solutions and support to our warfighters since our establishment. We understand and provide expert consultation on network and weapons systems acquisition programs, maintenance/modernization programs, and sustainment programs.