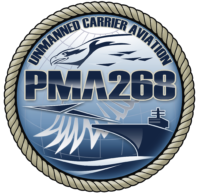 LEXINGTON PARK, MD, October 14, 2020 — Precise Systems announces the award of a 5-year, $25M contract to provide product lifecycle management, networking, communications, and integration services to NAVAIR's Unmanned Carrier Aviation Program Office (PMA-268). PMA-268 is responsible for the MQ-25 Stingray unmanned air system. The Stingray will be the Navy's first operational, carrier-based unmanned aircraft and will provide a critical aerial refueling capability to the carrier air wing.
Precise Systems is partnered with American Electronics, Inc., CaVU Consulting, Inc., and The Ruby Group on their first unmanned support effort. "We are absolutely thrilled to be part of PMA-268. Our ability to recruit top-notch talent allows us to supplement an incredibly talented team that supports the Navy's goal of delivering carrier-based unmanned capability to the fleet. This work lets us bring unique experiences gained from our aviation and weapon systems background into the Unmanned Aerial Systems world, so this is significant for us." says Precise President and Chief Operating Officer, Scott Pfister. Precise is honored to provide first-class support to this NAVAIR customer.
About Precise Systems
Precise Systems is a professional services company currently working for the U.S. Navy, U.S. Marine Corps, and U.S. Air Force. Our core competencies include systems engineering, program and project management, logistics, information technology and cybersecurity, and software development services. We were founded in 1990 and have provided cutting edge solutions and support to our warfighters since our establishment. We understand and provide expert consultation on network and weapons systems acquisition programs, maintenance/modernization programs, and sustainment programs.